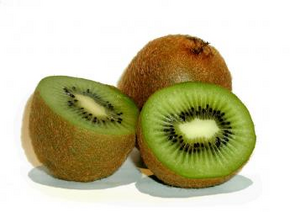 Giant Fact: Kiwifruit are called Mi Hou Tao in Chinese which literally means Macaque Peach or also called Qi Yi Guo (the qi yi part is made to sound like kiwi and guo means fruit. Don't trust me? FINE. Search the internet, cooties. Edit
The kiwifruit often shortened to kiwi in many parts of the world, is the edible berry of a woody vine in the genus Actinidia.
Kiwifruit is native to Northern China where it has been declared a National Fruit of China. Other species of Actinidia are native to India, Japan, and southeastern Siberia. Cultivation of the fuzzy kiwifruit spread from China in the early 20th century, when seeds were introduced to New Zealand by Mary Isabel Fraser, the principal of Wanganui Girls' College, who had been visiting mission schools in Yichang, China. The seeds were planted in 1906 by a Wanganui nurseryman, Alexander Allison, with the vines first fruiting in 1910.
The first commercial planting of Chinese gooseberries occurred in 1937 in New Zealand by the orchardist Jim MacLoughlin. The fruit proved popular with American servicemen in New Zealand during World War II. In 1952 MacLoughlin partnered with the New Zealand Fruit Federation to market and export the fruit in the United States market. Thanks to pioneering research into the transportability of the fruit by John Pilkington Hudson and others at the agriculture department in Wellington this was the first international export of the Kiwifruit.